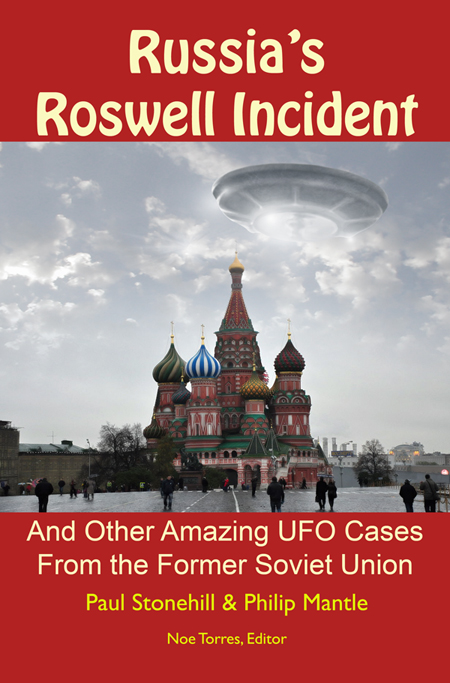 Russia's Roswell Incident: And Other Amazing UFO Cases from the Former Soviet Union
Authored by Paul Stonehill and Philip Mantle. Edited by Noe Torres. Available from Amazon.com.
Witnesses say something not of this world crash-landed on a hilltop in the Russian mining town of Dalnegorsk in 1986. Metal fragments recovered at the site continue to puzzle scientists today. When subjected to heat, some of the elements "disappear" and are replaced by others. Some fragments display anti-gravitational properties. Often called "Russia's Roswell," this amazing event is fully explored by former Soviet refugee Paul Stonehill, founder of the Russian Ufology Research Center, and British UFO expert Philip Mantle. In addition to complete analysis of the Dalnegorsk crash, the book fully covers the mysterious 1908 Tunguska Event in Siberia, which some people believe was an alien spacecraft that fell to Earth. Other major Russian UFO cases are spotlighted, including sightings by Russian cosmonauts and members of the military. Order this amazing book today from the publisher or from Amazon.com.
About the authors:
Paul Stonehill was born in Kiev, USSR, in 1959 and emigrated to the U.S. in 1973. A recognized expert on the history and culture of the former Soviet Union, author, TV consultant, lecturer, and researcher of Eurasian paranormal phenomena, Paul founded the Los Angeles-based Russian Ufology Research Center in 1991. Paul has excellent sources in the UFO research community in Russia, Ukraine and Eastern Europe.
Philip Mantle is the former Director of Investigations for the British UFO Research Association, former Mutual UFO Network representative for England, and an honorary member of the Research Institute on Anomalous Phenomena in the Ukraine. He is an international lecturer on the subject of UFOs and has also worked for a variety of TV and radio companies around the world.
More information about this new book is available on our Russia's Roswell page.