From award-winning Star Trek, Twilight Zone, and Stargate writer David Bennet Carren comes a startling vision of a dark tomorrow. In the not-too-distant future, Earth is a harsh world controlled by the all-powerful Nummular Corporation. Human beings exist in a bitter environment without love or hope. People toil long hours in vast, dangerous factories and live in slums terrorized by gangs of rapists and murderers. Law enforcement agencies are more concerned with repression than with maintaining law and order.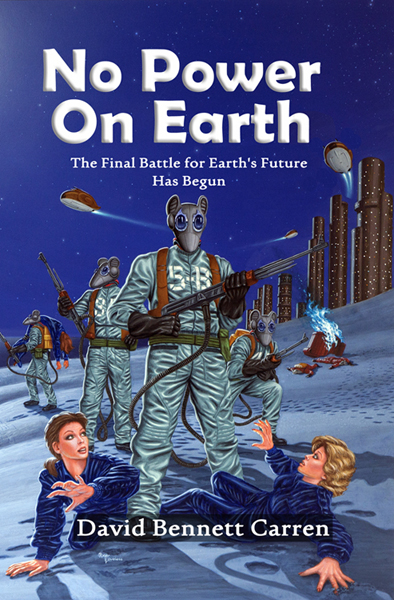 Abbie Parker cannot believe that things could get any worse … until the marauders in gray appear from the sea. They raid the complex where Abbie lives and kidnap her and 39 other women. Spirited away across the sea to a strange floating city, Abbie and her fellow captives must battle a ruthless enemy to begin the long road toward freeing human society from Nummular's iron grip.
The odds seem hopeless, because there is no power on Earth that can help her. Except for the power of love….
Now available from Amazon.com. Click here to order.
About the Author:
David Bennett Carren has directed, written or produced more than 200 films and television shows, including episodes of Star Trek: Next Generation, Stargate, Twilight Zone, Murder, She Wrote, Diagnosis Murder, and Walker, Texas Ranger. In his long Hollywood career, he counts among his fondest memories working with Star Trek creator Gene Roddenberry, as well as the cast and crew of "Star Trek: Next Generation," including Patrick Stewart, Brent Spiner, and many others.
David's recognition as a screenwriter includes a First Place in the New York Television and Film Festival, a Writer's Guild Award Nomination, finalist honors at the Austin Film Festival on multiple projects, and Gold and Bronze Remi Awards. As a director, he earned a Silver Palm at the Mexico Film Festival for his feature film, The Red Queen.
His play, "Christmas," was performed at the Back Alley Theater in Los Angeles and another play, "Comments," won South Texas College's Ninth Annual Play Writing Contest. He has also produced and directed for the stage, including productions of "Wait Until Dark" and "The Nerd."
Medallion Books originally published David's first novel, No Power on Earth, which has been out of print until now. In 1986. Stonelock Pictures optioned his second novel, I've Killed Mother, and his short story "If She Dies" was published in "Twisted Tales" before he adapted it as an episode of The Twilight Zone.
David earned his Bachelor in Journalism at the University of Texas at Austin and his Master in Fine Arts at Spalding University. He is an Associate Professor at the University of Texas – Pan American, where he teaches screenwriting, film directing, film history, and video editing.