THE REAL COWBOYS & ALIENS: OLD WEST UFOs!!!
***
In the mid to late 1800s, America's farmers, ranchers, and cowboys looked up into the sky and beheld "signs and wonders" that rival any UFO sighting of the modern era, according to the authors of a new book The Real Cowboys & Aliens: Old West UFOs, available from Amazon at https://amzn.to/2OBGgCu. The new book by UFO researcher Noe Torres and Roswell, New Mexico, historian John LeMay is a follow up to their critically acclaimed 2011 book The Real Cowboys & Aliens, with a greatly expanded number of cases.
According to Torres and LeMay, denizens of the 19th century witnessed huge aerial vessels flying overhead and bizarre humanoids that could only be described as "not of this Earth." They witnessed UFO crashes, so-called "Men in Black," technology that seemed from the far future, alien abductions, mile-long airships, underwater UFOs, and much more.
Author Noe Torres said, "In this book, you will discover that truth is stranger than any fiction created by Hollywood screenwriters. You will be shocked to learn of this hidden history of the Old West. We have stories where giant swords fall from the sky, families psychically transport themselves to Mars, aliens emerge from the water rather than the sky, and the 'Men in Black' ride around in futuristic vehicles."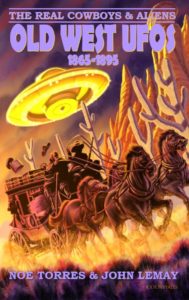 In reviewing this book, UFO researcher Nick Pope says, "If you think the UFO mystery began in 1947 with flying saucers and the Roswell crash, think again. This fascinating, data-rich book explores a wealth of intriguing incidents that were formerly interpreted through the lens of folklore, but which could now lead to a fundamental reappraisal of the greatest mystery of the modern age. With the focus on the Nineteenth Century, this delightful tome shines a light on a slice of American history that shows truth really can be stranger than fiction."
This new, 308 page book is the second in a new series of UFO books by Torres and LeMay, serving as the follow up to The Real Cowboys & Aliens: Early American UFOs, released in October 2019, which covered UFO cases that occurred between 1800 and 1864.
The Real Cowboys & Aliens: Old West UFOs, which contains copious photos and illustrations, is available via Amazon, in hardcover, paperback, and e-book formats at the following web page: https://amzn.to/2OBGgCu.
THE REAL COWBOYS & ALIENS: EARLY AMERICAN UFOs!!!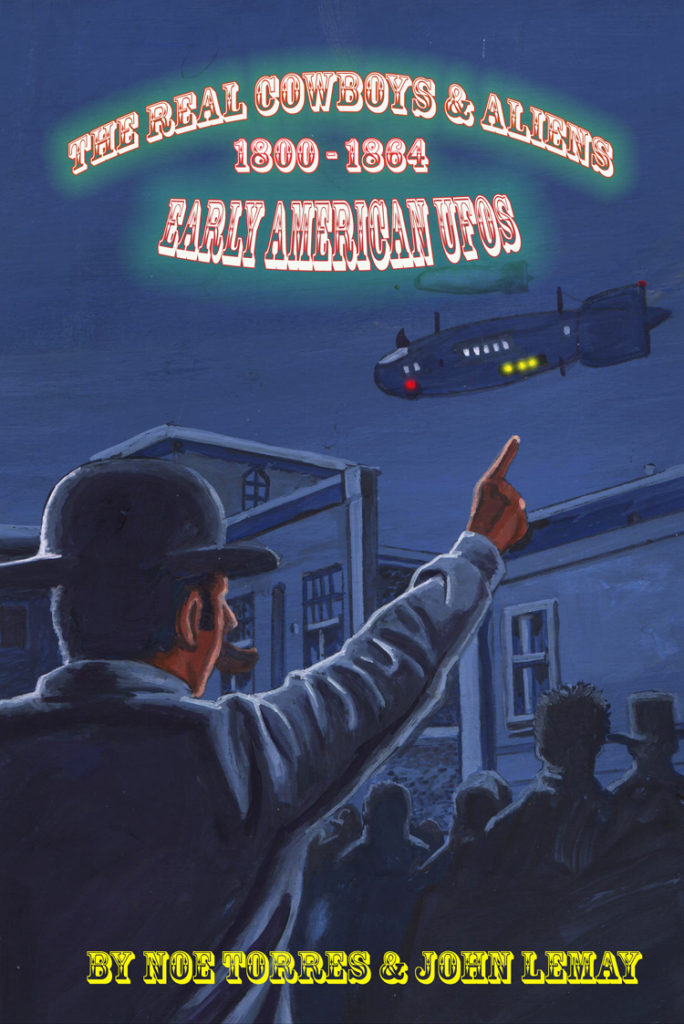 Long before the first airplane took flight, when nothing but birds should have been in the skies, the early residents of the United States witnessed bizarre unidentified flying objects of all sizes, shapes, and descriptions. They encountered strange beings that clearly were not human, including "Men in Black" and possibly time travelers. They saw huge motherships, underwater UFOs, and other unexplainable wonders. Some of America's most famous early historical figures, including Thomas Jefferson, Ben Franklin, George Washington, shared an interest in UFOs and extraterrestrials. Contained within these pages is the "other" American History that you were never taught in school!
Order your copy today from Amazon using the link provided — The Real Cowboys & Aliens: Early American UFOs
. The Kindle edition is available at https://amzn.to/2JKkfzn.
Best-selling author Donald Schmitt says, "What Torres and LeMay have clearly defined in this suspenseful thriller tome, is that the UFO accounts portrayed throughout this exhaustively researched work, remain in a separate class…. Aside from a rare hot-air balloon or dirigible, there was nothing else in the air back then… or on the ground; the witnesses are clearly describing something which precedes the Wright Brothers technology…. The simple fact that such cases exist in an era where the sky above us was still pristine and H. G. Wells had yet to conquer the Earth with Martians should captivate us all…."
Order your copy today from Amazon using the link provided — The Real Cowboys & Aliens: Early American UFOs
. The Kindle edition is available at https://amzn.to/2JKkfzn.
HIGHLIGHTS FROM THE 2019 EDINBURG UFO CONFERENCE
Author Noe Torres was one of the creators of the Edinburg UFO Conference, held annually since 2012. Below are highlights from the 2019 Conference:
UPDATE EDITION OF "ULTIMATE ROSWELL GUIDE"
Author Noe Torres is happy to announce the release of an updated edition of his book Ultimate Guide to the Roswell UFO Crash, now available from Amazon in both English and Spanish. This book remains the best selling book among tourists visiting Roswell, New Mexico – for which Noe is very grateful. Special thanks to Gene Frazier at the Roswell Landing shop (205 N Main St, Roswell). Order your copy today from Amazon using the link provided below:
Ultimate Guide To the Roswell UFO Crash, 3rd Edition: How to Visit All of Roswell's Mysterious UFO Landmarks
NEW BOOK ABOUT AURORA UFO INCIDENT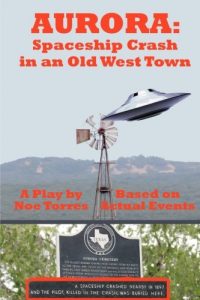 Author Noe Torres has written a stage play, "Aurora: Spaceship Crash in an Old West Town," based on the reported crash of a UFO in Aurora, Texas in 1897. Although it is fiction, Noe kept it very close to the actual events. He wrote this play with the intent that it could be staged in Aurora as a tourist attraction. Now it is available in published form through Amazon. A special thanks to Dr. Toni Wheeler and the other folks in Aurora for allowing Noe to be a part of their "Aurora Alien Encounter" festival in 2016. Grab your copy today by going to https://amzn.to/2GKQVVj.
NOE TORRES APPEARS ON "MYSTERIES OF THE OUTDOORS"
Author Noe Torres appeared in an episode of "Mysteries of the Outdoors" (Season 2, Ep. 1, "Strange Attractions"), which he filmed in 2016 at Big Bend National Park in West Texas for Travel Channel. Noe, Brad Newton, and Ruben Uriarte were invited to participate in the filming at Big Bend. We were very pleased at how the episode turned out! The show is currently available on demand on YouTube (see link below) for a fee ($1.99 for SD or $2.99 for HD). Check it out!
EDINBURG UFO FESTIVAL, APRIL 2021
Believers and non-believers alike are invited to join in the 9th Annual UFO Conference & Festival. Don't miss your chance to participate in the festivities and then hear some of the nation's top UFO experts speak at the UFO Conference at the Edinburg Conference Center at Renaissance in April 8-10, 2021. Visit EdinburgUFO.com for full details as the date approaches.
PROFESSIONAL NARRATOR MATTHEW WIENS RELEASES "ALIENS IN THE FOREST"
Authors Noe Torres and Ruben Uriarte are proud to announce the Amazon Audible audiobook release of their book Aliens in the Forest: The Cisco Grove UFO Encounter
Aliens in the Forest: The Cisco Grove UFO Encounter, narrated by Matthew Wiens. Matthew and the authors worked closely over several months to create the most gripping storytelling possible in audio format. Torres said "Matthew is a wonderful narrator and has done a tremendous job with our book. Ruben Uriarte and I were both amazed at how good the narration sounds. Major kudos to Matthew!" The book is available from Amazon via their Audible audiobook service using the Amazon links provided.
Noe and Ruben's book The Coyame Incident: UFO Crash Near Presidio, Texas brings the "Coyame" case up to date based on the six years of additional research since the publication of their first book Mexico's Roswell. Pick up your copy of the book: CreateSpace.com or from Amazon.com.
The Coyame Incident: UFO Crash Near Presidio, Texas is also available for the Amazon Kindle. Click here for more details.