HIGHLIGHTS FROM THE 2019 EDINBURG UFO CONFERENCE
Author Noe Torres was one of the creators of the Edinburg UFO Conference, held annually since 2012. Below are highlights from the 2019 Conference:
NEW EDITION OF "ULTIMATE ROSWELL GUIDE"
Author Noe Torres is happy to announce the release of a new edition of his book Ultimate Guide to the Roswell UFO Crash, now available from Amazon in both English and Spanish. This book remains the best selling book among tourists visiting Roswell, New Mexico – for which Noe is very grateful. Special thanks to Gene Frazier at the Roswell Landing shop (205 N Main St, Roswell). Order your copy today from Amazon using the link provided below:
Ultimate Guide To the Roswell UFO Crash, 3rd Edition: How to Visit All of Roswell's Mysterious UFO Landmarks
NEW BOOK ABOUT AURORA UFO INCIDENT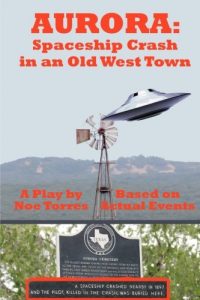 Author Noe Torres has written a stage play, "Aurora: Spaceship Crash in an Old West Town," based on the reported crash of a UFO in Aurora, Texas in 1897. Although it is fiction, Noe kept it very close to the actual events. He wrote this play with the intent that it could be staged in Aurora as a tourist attraction. Now it is available in published form through Amazon. A special thanks to Dr. Toni Wheeler and the other folks in Aurora for allowing Noe to be a part of their "Aurora Alien Encounter" festival in 2016. Grab your copy today by going to https://amzn.to/2GKQVVj.
NOE TORRES APPEARS ON "MYSTERIES OF THE OUTDOORS"
Author Noe Torres appeared in an episode of "Mysteries of the Outdoors" (Season 2, Ep. 1, "Strange Attractions"), which he filmed in 2016 at Big Bend National Park in West Texas for Travel Channel. Noe, Brad Newton, and Ruben Uriarte were invited to participate in the filming at Big Bend. We were very pleased at how the episode turned out! The show is currently available on demand on YouTube (see link below) for a fee ($1.99 for SD or $2.99 for HD). Check it out!
EDINBURG UFO FESTIVAL, APRIL 2020
Believers and non-believers alike are invited to join in the 9th Annual UFO Conference & Festival. Don't miss your chance to participate in the festivities and then hear some of the nation's top UFO experts speak at the UFO Conference at the Edinburg Conference Center at Renaissance in April 2020 (Dates to be announced). Visit EdinburgUFO.com for full details as the date approaches.
NOE TORRES SPEAKS AT UFO CONGRESS
The idea that ETs may have visted North America during the 1800s may not be as far-fetched as some people think, according to author Noe Torres, who was a featured speaker at the 2017 International UFO Congress, held Feb. 15-19, at Fountain Hills, Arizona. A nationally-known UFO expert, Torres retold UFO stories from his critically-acclaimed book The Real Cowboys & Aliens: UFO Encounters of the Old West, which was published in 2011 by Amazon.com.

"What is especially interesting about these historic UFO sightings is that they took place before airplanes were invented and before flight of any kind was common. Although hot air balloons had been around since the 1700s, it was closer to 1900 before balloon airships became widely known."
If you would like to order a DVD of Noe's presentation, it is available from the UFO Congress at https://store-c1949.mybigcommerce.com/noe-torres-real-cowboys-aliens-ufos-in-the-old-west/.
PROFESSIONAL NARRATOR MATTHEW WIENS RELEASES "ALIENS IN THE FOREST"
Authors Noe Torres and Ruben Uriarte are proud to announce the Amazon Audible audiobook release of their book Aliens in the Forest: The Cisco Grove UFO Encounter
Aliens in the Forest: The Cisco Grove UFO Encounter, narrated by Matthew Wiens. Matthew and the authors worked closely over several months to create the most gripping storytelling possible in audio format. Torres said "Matthew is a wonderful narrator and has done a tremendous job with our book. Ruben Uriarte and I were both amazed at how good the narration sounds. Major kudos to Matthew!" The book is available from Amazon via their Audible audiobook service using the Amazon links provided.
Noe and Ruben's book The Coyame Incident: UFO Crash Near Presidio, Texas brings the "Coyame" case up to date based on the six years of additional research since the publication of their first book Mexico's Roswell. Pick up your copy of the book: CreateSpace.com or from Amazon.com.
The Coyame Incident: UFO Crash Near Presidio, Texas is also available for the Amazon Kindle. Click here for more details.