2017 EDINBURG UFO CONFERENCE, MARCH 31 & APRIL 1
The Sekula Memorial Library and Edinburg Arts invites believers and non-believers to join in the 6th Annual UFO Conference & Festival. Don't miss your chance to participate in the festivities on Friday, March 31, 2017 and then hear some of the nation's top UFO experts speak at the UFO Conference at the Edinburg Conference Center at Renaissance on Saturday, April 1. Tickets are $25 (all general admission) and are now available from EventBrite.com. For more information, visit EdinburgUFO.com.
2017 AURORA ALIEN ENCOUNTER, APRIL 21 & 22

On April 22, 2017, author Noe Torres will speak at the 120th anniversary of the world-famous UFO crash in Aurora, Texas (near Fort Worth). Also speaking will be David Childress of TV's Ancient Aliens, Jim Marrs, Nick Redfern, Tui Snider, and Jerry Cooper. The Aurora event will also feature new information about the myterious "Starchild Skull" found in a cave in Chihuahua state, Mexico, which does not appear to be the skull of a human being. Some investigators have speculated that the skull may have belonged to an extraterrestrial who died on Earth many centuries ago. Make plans to attend the 2017 Aurora Alien Encounter. Tickets and full information are available at http://eventbrite.com/e/aurora-alien-encounter-tickets-31999963753.
NOE TORRES SPEAKS AT UFO CONGRESS
The idea that ETs may have visted North America during the 1800s may not be as far-fetched as some people think, according to author Noe Torres, who was a featured speaker at the 2017 International UFO Congress, held Feb. 15-19, at Fountain Hills, Arizona. A nationally-known UFO expert, Torres retold UFO stories from his critically-acclaimed book The Real Cowboys & Aliens: UFO Encounters of the Old West, which was published in 2011 by Amazon.com.

"What is especially interesting about these historic UFO sightings is that they took place before airplanes were invented and before flight of any kind was common. Although hot air balloons had been around since the 1700s, it was closer to 1900 before balloon airships became widely known."
If you would like to order a DVD of Noe's presentation, it is available from the UFO Congress at https://store-c1949.mybigcommerce.com/noe-torres-real-cowboys-aliens-ufos-in-the-old-west/.
AS FEATURED AT ALIEN CON 2016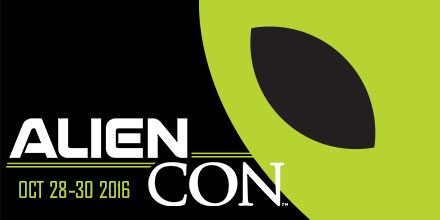 We'd like to thank everyone who visited our RoswellBooks.com table at the first ever Alien Con, held Oct. 28-30, 2016 at the Santa Clara (California) Convention Center. Also, special thanks to the many folks who attended the Discussion Panel about our book The Real Cowboys & Aliens on Friday, Oct. 28. We had standing room only in the Sonoma Theater.

PROFESSIONAL NARRATOR MATTHEW WIENS RELEASES "ALIENS IN THE FOREST"
Authors Noe Torres and Ruben Uriarte are proud to announce the Amazon Audible audiobook release of their book Aliens in the Forest: The Cisco Grove UFO Encounter
Aliens in the Forest: The Cisco Grove UFO Encounter, narrated by Matthew Wiens. Matthew and the authors worked closely over several months to create the most gripping storytelling possible in audio format. Torres said "Matthew is a wonderful narrator and has done a tremendous job with our book. Ruben Uriarte and I were both amazed at how good the narration sounds. Major kudos to Matthew!" The book is available from Amazon via their Audible audiobook service using the Amazon links provided.
Noe and Ruben's new book The Coyame Incident: UFO Crash Near Presidio, Texas brings the "Coyame" case up to date based on the six years of additional research since the publication of their first book Mexico's Roswell. Pick up your copy of the book: CreateSpace.com or from Amazon.com.
The Coyame Incident: UFO Crash Near Presidio, Texas is also available for the Amazon Kindle. Click here for more details.