Now available: A Classic Sci-Fi Novel From Star Trek Writer David Bennett Carren
From award-winning Star Trek, Twilight Zone, and Stargate writer David Bennett Carren comes a startling vision of a dark tomorrow. In the not-too-distant future, Earth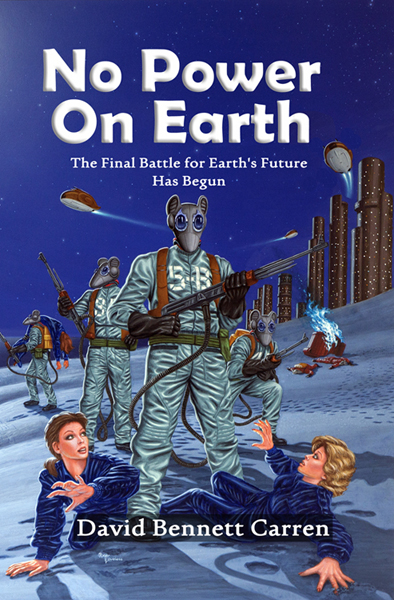 is a harsh world controlled by the all-powerful Nummular Corporation. Human beings exist in a bitter environment without love or hope. People toil long hours in vast, dangerous factories and live in slums terrorized by gangs of rapists and murderers. Law enforcement agencies are more concerned with repression than with maintaining law and order.
Abbie Parker cannot believe that things could get any worse … until the marauders in gray appear from the sea. They raid the complex where Abbie lives and kidnap her and 39 other women. Spirited away across the sea to a strange floating city, Abbie and her fellow captives must battle a ruthless enemy to begin the long road toward freeing human society from Nummular's iron grip.
The odds seem hopeless, because there is no power on Earth that can help her. Except for the power of love….
Now available from Amazon.com. Click here to order.
New Release: Roswell Books Presents Mexico's Most Famous UFO Cases!
In an amazing audio recording made by Mexico City air traffic controllers, pilot Carlos de los Santos is heard screaming into his headset, "Mayday, Mayday. My plane is surrounded by UFOs and my instruments do not work!" This incredible 1975 case is one of hundreds of pilot encounters with UFOs documented in the new book UFOs Over Mexico: Encounters with Unidentified Aerial Phenomena (206 pages, paperback, ISBN 978-1496137623), published by RoswellBooks.com.
Included in the book are Mexico's most noteworthy UFO cases, including that of pilot Rafael Pacheco whose Cessna 150 encountered a UFO in 1976 and became caught in some kind of tractor beam, during which witnesses say the pilot received a telepathic message from an extraterrestrial, which was also heard over the aircraft's radio. The message said, in part "that we [human beings] are an inferior civilization and that we are not alone in the universe … that there are many other civilizations with beings that are physically similar to us, but that are much better developed mentally. He also spoke about us nearing a worldwide catastrophe, as we are the only beings in the universe with such a destructive mindset."
UFOs Over Mexico: Encounters with Unidentified Aerial Phenomena is a revised, updated English translation of a classic work of UFO research, Ovnis y la Aviación Mexicana, by Carlos Guzman and Alfonso Salazar. The original book was published in Spanish in 2001 and has never previously been available in English. It is considered one of Ufology's most important works of research.
Authors Guzman and Salazar are two of Mexico's most experienced and highly-regarded UFO researchers. For decades, they have quietly conducted exhaustive research into their country's most remarkable UFO cases, especially encounters involving aviation. While they do not receive the media attention of celebrities like Jaime Maussan, Guzman and Salazar are well known throughout the world for their careful and well-documented investigations into Mexican UFO cases throughout history.
This new English edition was prepared by authors Noe Torres of Texas and Ruben Uriarte of California, who have themselves written a number of books about historic UFO cases. "This is not a case of simply translating the original work from 2001," Torres said, "We essentially re-wrote the book, with cooperation from the authors, to make it more relevant to persons who are not familiar with Mexico's history, geography, or culture. We condensed the book down a bit to focus on the strongest cases and added some of the cases that Ruben Uriarte and I have worked on ourselves – for example, three reported UFO crashes along the Texas-Mexico border. Also, the original book only covered cases through the year 2000. We went in and added more recent cases. So, in a way, this is an entirely new work."
Click here to order from Amazon.com: UFOs Over Mexico!: Encounters with Unidentified Aerial Phenomena
Our UFO Festivals Featured in Prominent Texas Magazine

Our UFO conferences were featured in the June 2014 edition of the prestigious Texas Observer magazine, in an article by Patrick Michels titled "Aliens Without Borders." The article refers to author Noe Torres, the conference planner and organizer, as the "godfather" of Texas UFO festivals. To read the entire article online, visit http://www.texasobserver.org/aliens-without-borders-exploring-the-del-rio-ufo-festival/. Our upcoming conferences are in Del Rio, Texas, on Jan. 23 & 24, 2015, and in Edinburg, Texas, on Aug. 14 & 15, 2015. See you there!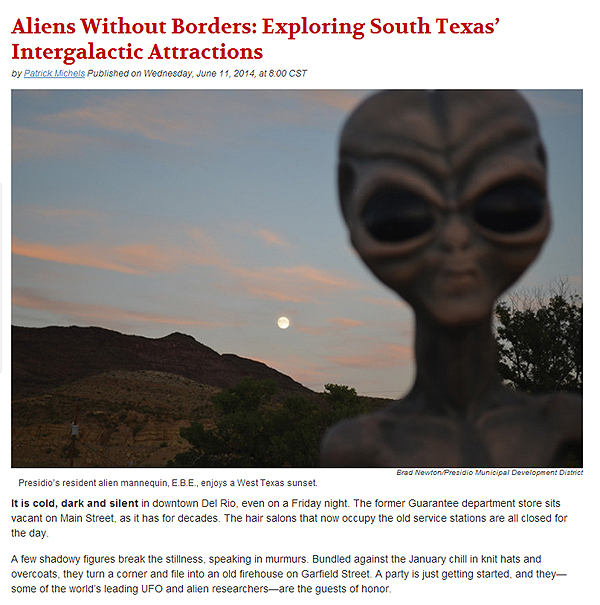 New! Stories From the Golden Age of Science Fiction!
Author Noe Torres has selected eight of his favorite science fiction stories from the 1950s for this outstanding collection. Included are tales that capture the essence of the 1950s, including masterpieces by Clifford D. Simak, Frederik Pohl, H. Beam Piper, Philip K. Dick, Murray Leinster, and Fritz Lieber. The impact and reach of these stories has been extensive, as all of them were adapted into radio dramas for the outstanding 1950s series "X Minus One," which is still treasured by many today. The included stories also influenced many later literary and film ventures. For instance, Pohl's story "Tunnel Under the World" is about a character who keeps re-living the same day over and over, similar to the dilemma faced by Phil Connors in the 1993 motion picture "Groundhog Day." Others of these stories had an obvious influence on television shows such as "Star Trek," "Lost in Space," and "Twilight Zone."
Voyages in Time and Space: Vintage Science Fiction from the 1950s
Texas UFO Museum & Research Library Opens!
We are happy to announce the grand opening of the Texas UFO Museum & Research Library web site at http://TexasUFOmuseum.com. There is no brick-and-mortar museum yet, but the online version of the museum is the first step toward establishing an actual, physical museum to house information about the state's most noteworthy UFO cases. When you visit the museum, you will see eye-opening information about how UFOs, despite getting minimal media attention, have been a very important part of Texas history dating back to the 1800s. In fact, a UFO sighting by a Dallas-area farmer in 1878 is recognized as being the first instance of the word "saucer" being used to describe a UFO. The term "flying saucer" did not "officially" enter our vocabulary until 1947 – but there it was in Dallas-area newspapers way back in 1878.
The Texas UFO Museum features exhibits about all the major UFO cases from 1878 to the present, including the Lubbock Lights, Stephenville, the Del Rio UFO Crash, the Levelland sightings, the Cash-Landrum case, and many, many more! Be sure to visit the museum's web site today!
Noe and Ruben's new book The Coyame Incident: UFO Crash Near Presidio, Texas brings the "Coyame" case up to date based on the six years of additional research since the publication of their first book Mexico's Roswell. Pick up your copy of the book: CreateSpace.com or from Amazon.com.
The Coyame Incident: UFO Crash Near Presidio, Texas is also available for the Amazon Kindle. Click here for more details.