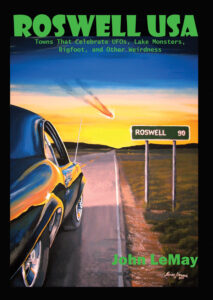 Towns That Celebrate UFOs, Lake Monsters, Bigfoot, and Other Weirdness
Authored by John LeMay, Illustrated by Neil Riebe, Edited by Noe Torres. 254 pages. Click here to purchase.
The year was 1997 and some 40,000 tourists and reporters descended upon the desert town of Roswell, New Mexico, where 50 years earlier a flying saucer is said to have crashed. Even today, UFOs and "Little Green Men" remain Roswell's top tourist draw. This book takes a fresh new look at the Roswell Incident from an "insider's perspective " – that of lifelong Roswell resident John LeMay, a historian and author born and raised in the Alien Capital of the World. His childhood being filled with tales of flying saucers and alien autopsies, John grew up knowing several key Roswell eyewitnesses, including Robert Shirkey, who said he saw UFO debris being loaded onto a B-29 bomber at the Roswell Army Air Field in 1947.

In the first part of this remarkable new book, John's keen insight and marvelous sense of humor deliver a fresh new angle on the story of the Roswell UFO crash and on some of Roswell's other, lesser-known mysteries, such as:
* The "alien ghost" that haunts the New Mexico Rehabilitation Center.
* The "Second" Roswell UFO Crash of 1949.
* Bottomless Lakes where cars sink into the depths and monsters emerge to the surface
* The Headless Horsewoman of Lover's Lane, a Victorian Era Spook with an axe to grind against young lovers.
* Plus more mysteries of Roswell!
As featured on the Jeff Rense radio program, click here to listen to Jeff's interview with author John LeMay and editor/publisher Noe Torres (from April 22, 2011).
Roswell is by no means the only town to use strange events and bizarre creatures to draw tourism dollars. Nor was it the first. In the second part of John's book, he takes us on a tour of other towns all over the U.S. that celebrate weirdness – like Churubusco, Indiana, where a giant turtle transformed the town into "Turtletown, USA." There is also Point Pleasant, West Virginia, where a moth-like humanoid has inspired an Annual Mothman Festival and a year-round Mothman Museum. Take a dip in the White River Monster Reservoir in Jacksonport, Arkansas, and visit an alien's grave in Aurora, Texas. Cruise along the E.T. Highway near Rachel, Nevada, and have your picture taken with Bigfoot in Fouke, Arkansas.
This outstanding new book is now available for purchase – Click here to place your order now! Also Available for the Kindle.