Author Noe Torres was one of the creators of the Edinburg UFO Festival, in partnership with the Edinburg Library and the Chamber of Commerce. Noe spoke to a standing room only crowd at an evening program at the library on January 12, 2012.
This inspired city officials, spearheaded by the library and the chamber, to create the very first Edinburg UFO Festival, which happened on Friday, August 10, 2012, in the City Auditorium, featuring just three speakers, including Noe. The free event was again standing room only.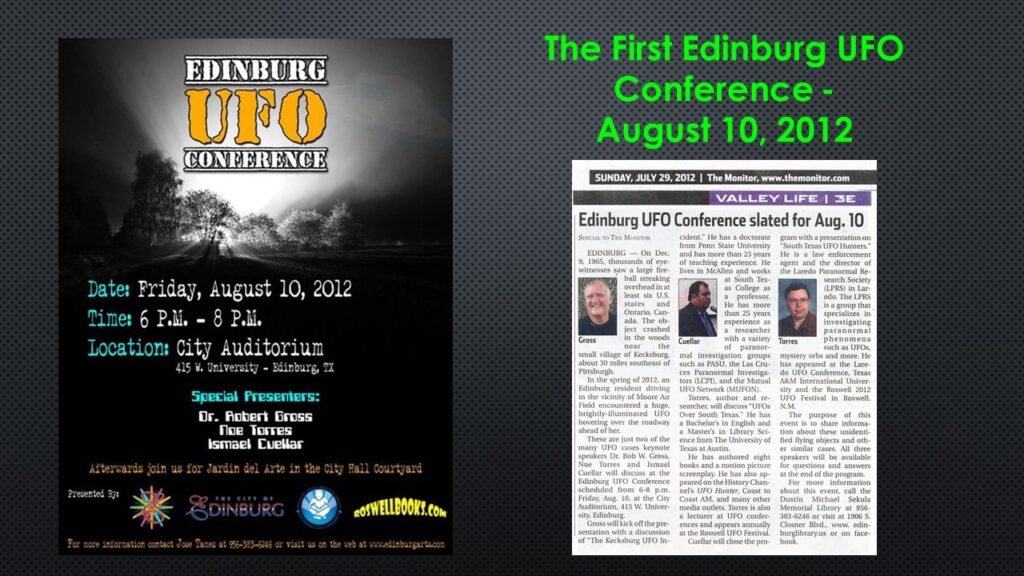 The success of the August 2012 conference led the city to start planning a "full scale" UFO conference, which took place on March 15, 2013, and featured two of the nation's top UFO speakers, nuclear physicist Stanton Friedman and UFO abductee Travis Walton.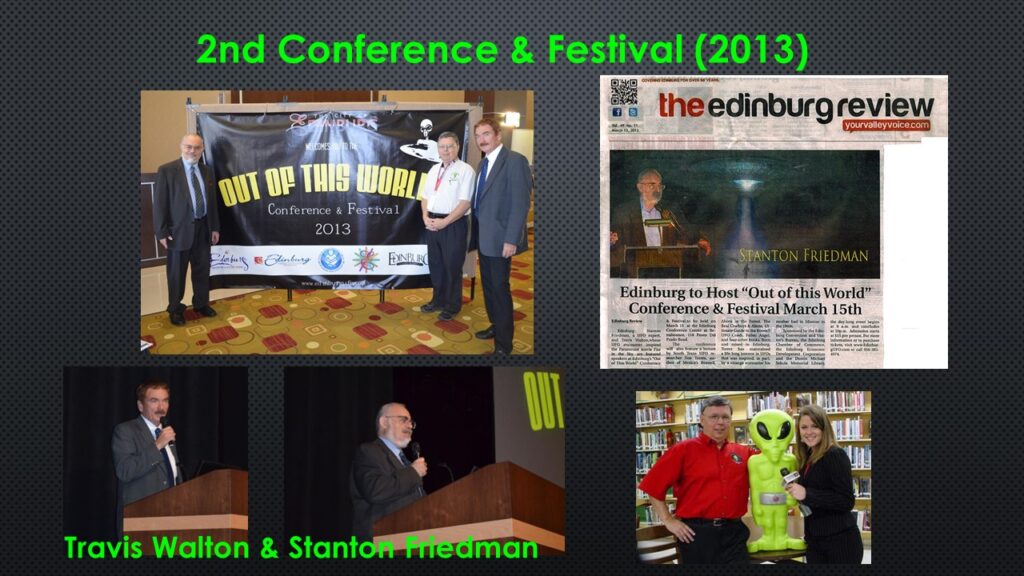 The conference was so successful that plans began right away for a follow-up event in 2014, featuring more outstanding speakers and authors.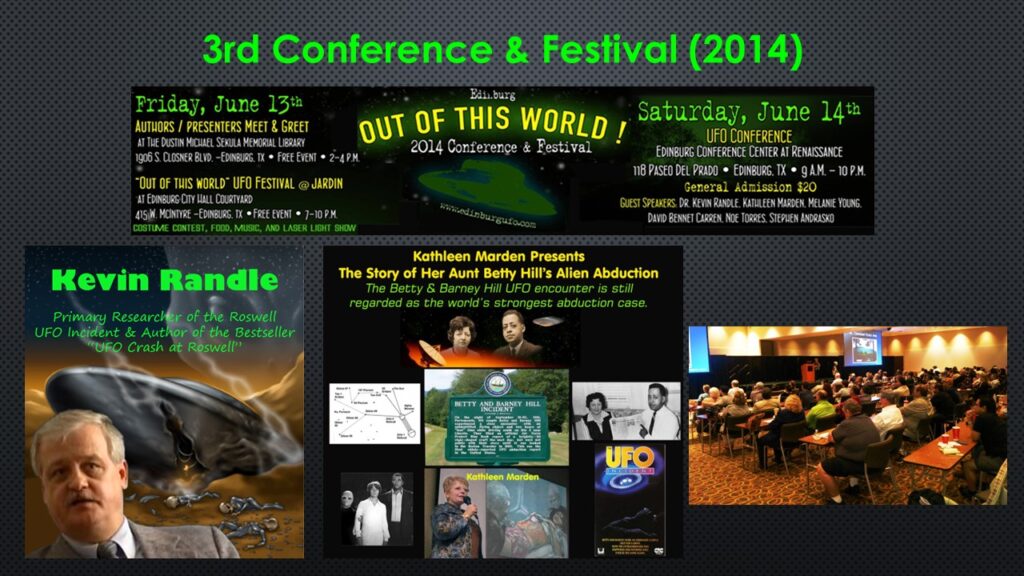 The conference continued gaining momentum as it moved forward to its 2015 event, which brought a special appearance by George Noory of "Coast to Coast" and former "Lost in Space" TV star Mark Goddard.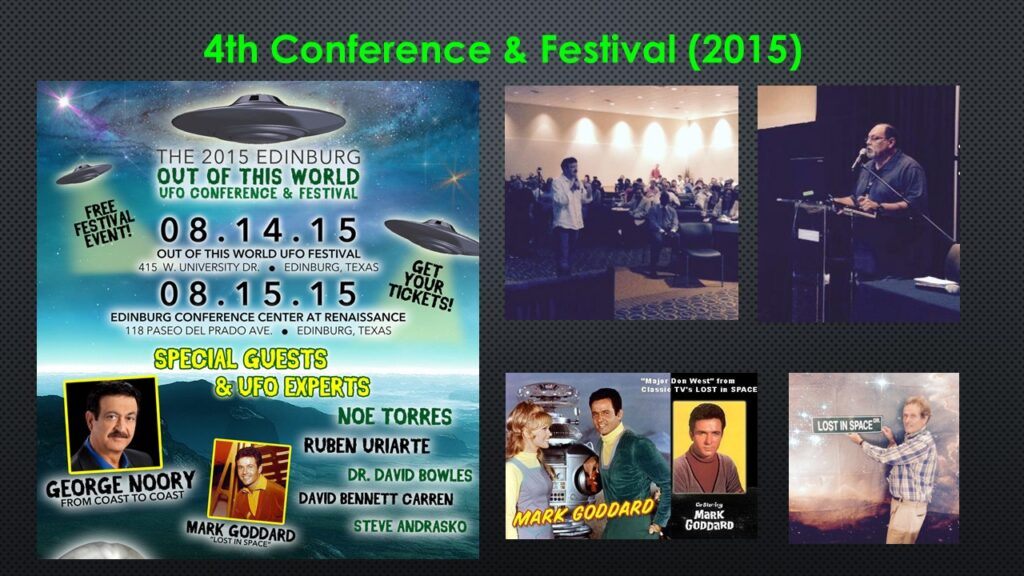 Heading into the 2016 conference, the event was becoming well established among all of the festivals and conferences held throughout the year in South Texas. The 2016 conference featured famous UFO speaker David Childress, from the "Ancient Aliens" TV show, among other high caliber speakers.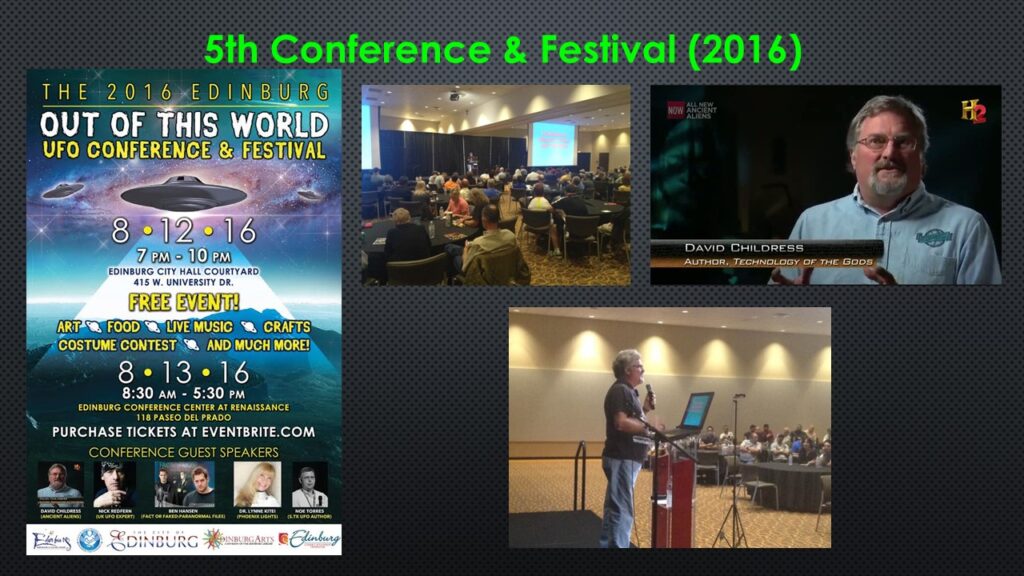 The 2017 was a continuation of the excellent programs that drew thousands of guests over the first five events.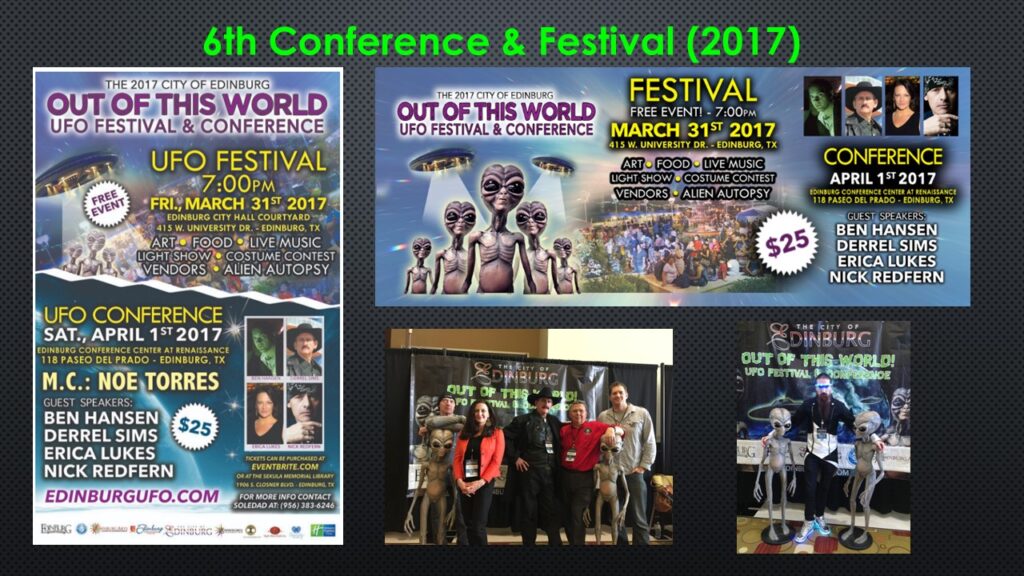 Another outstanding feature of the 2017 conference was a special commemoration of the 1966 Edinburg UFO Incident, which was held at the very site where the incident occurred!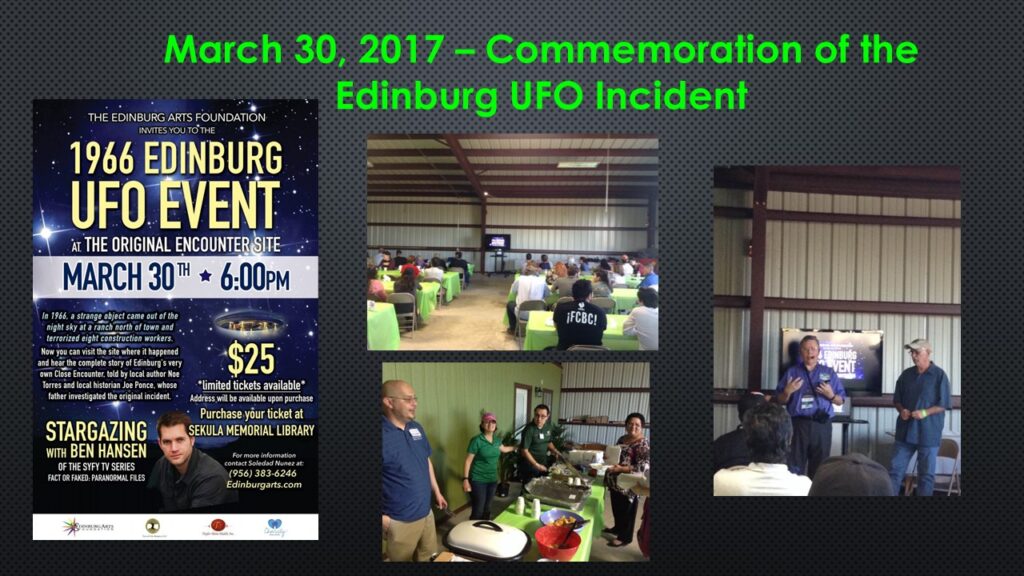 Great anticipation followed as the 2018 conference loomed ahead, and the organizers received the great news that the Edinburg UFO Conference was ranked the 3rd Best UFO festival in the entire world by ListVerse.com. The 2018 event feature a great lineup of speakers, including Travis Walton, Nick Pope, John Greenewald, and Stephen Bassett.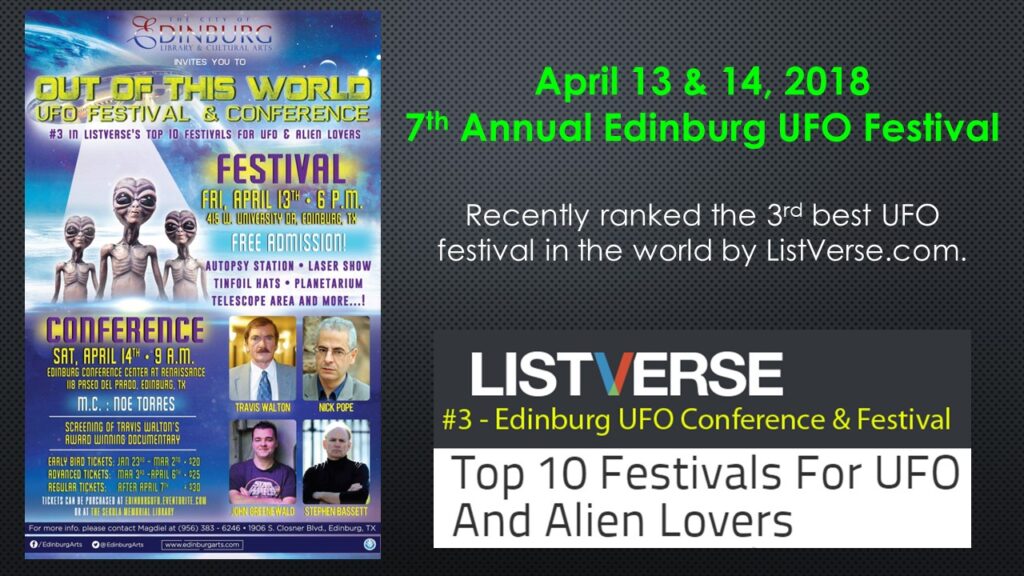 The 2019 Event was another smashing success and featured another great line-up that included UFO experiencers Colonel Charles Halt and Calvin Parker.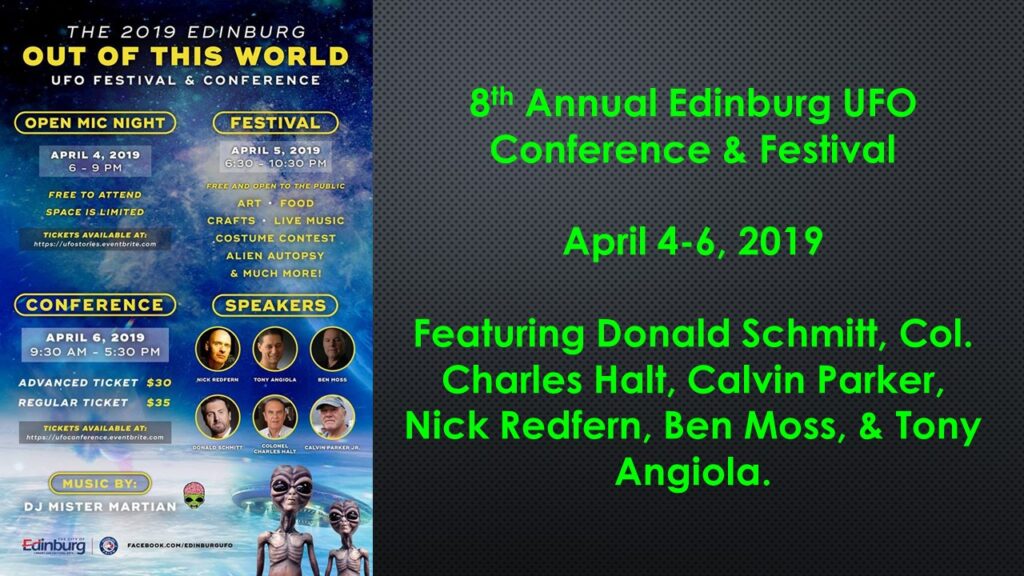 Unfortunately, COVID-19 wiped out the 2020 Edinburg UFO Conference. Before it was cancelled, the organizers had assembled another powerful lineup of speakers.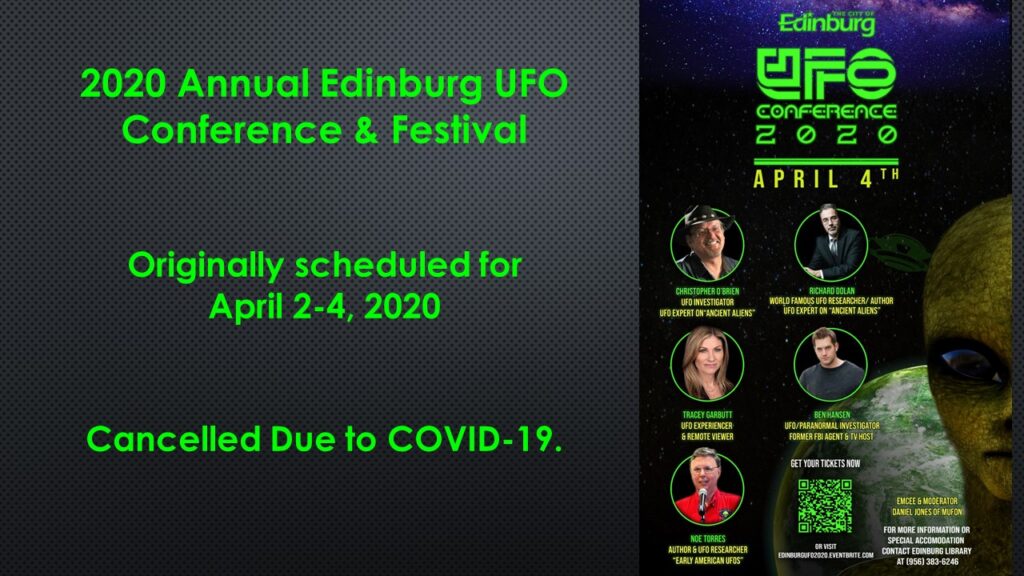 The 9th Annual Edinburg UFO Conference finally happened in April 2021, but it was held outdoors due to the ongoing effects of the COVID pandemic. In spite of the outdoor setting, the event was a great success!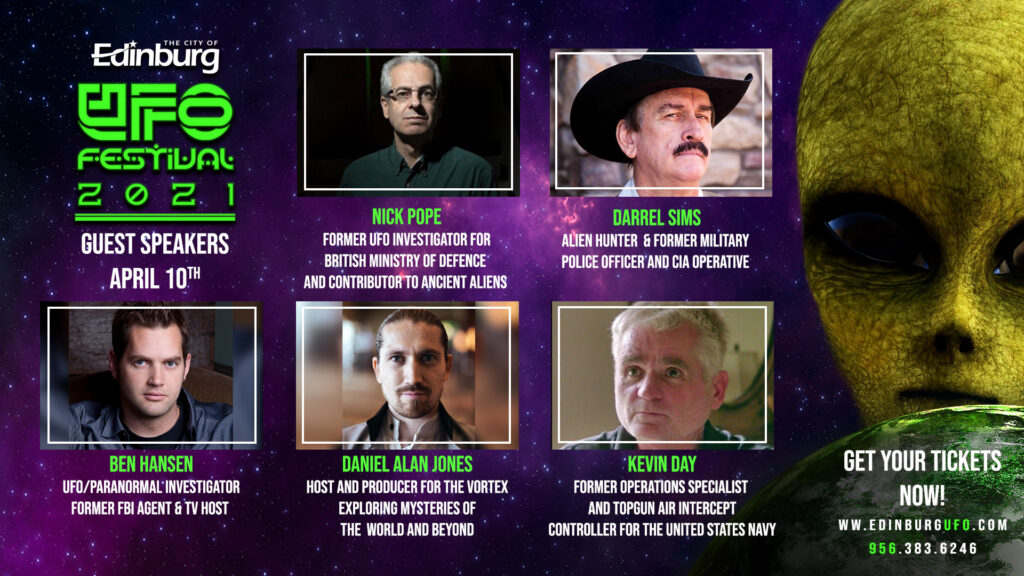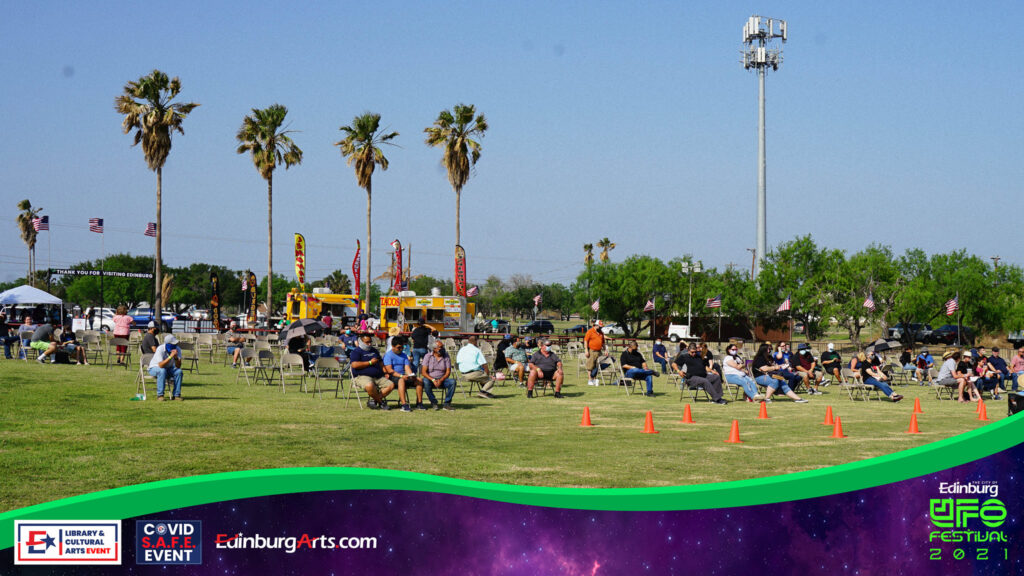 The 10th Annual Edinburg UFO Conference took place in 2022, bringing back a great lineup of speakers including two "Ancient Aliens" stars, Mike Bara and Chris O'Brien, and veteran UFO researcher Peter Robbins of New York.