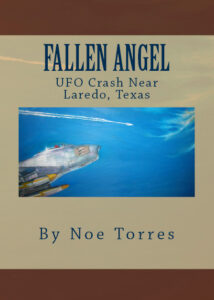 UFO Crash Near Laredo, Texas
Author / researcher Noe Torres tells of the reported crash of an unidentified flying object near Laredo, Texas. On July 7, 1948, U.S. military aircraft chased a fast-moving, 90-foot diameter silver disk across Texas before watching it crash about 30 miles south-souhwest of Laredo. A military retrieval team reportedly recovered the UFO and the body of a non-human occupant from the impact site. Known as the "Laredo UFO Crash," this case occurred almost exactly one year after the famous Roswell UFO Incident and holds much of the same mystery and intrigue. For the first time ever, this book presents all of the evidence regarding this hotly-debated UFO case.

Order your copy of this new book today, available from our publisher, from Amazon, or from other online book sellers.
Author Noe Torres was recently interviewed by Laredo TV station KGNS about his book and his UFO research. Click on the image below to watch the interview or go to https://drive.google.com/file/d/1MiS_5cPFw4en_4bThB-pnd96fcSMKcJD/view?usp=sharing: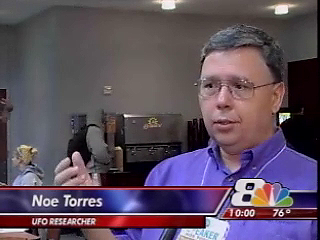 In the video below, author Noe Torres is interviewed by Jim Harold of "UFO Encounters":

Author Noe Torres describes the book in this YouTube video: